Sometimes I'm not sure if it really is news or just a weird dream….

Is Trump Throwing
Kushner and Junior Under the Bus ?
(Feb. 1, 2018)  White House leaker sources have confirmed plea bargaining negotiations are underway between Robert Mueller and Lawyers for Donald Trump, Jr. and Jared Kushner, the President's son-in-law. It turns out that
Kushner and Trump Jr. have signed strict non-disclosure agreements that promise full loyalty to the President, in order to remain members of "the familia", and they will stay silent and possibly face prison time in the Mueller investigation. These developments help explain recent "spottings" of Trump and Kushner at Washington area martial arts training centers, and also strolling around "bad parts" of D.C.
The President has insinuated that they are "soft" and must toughen-up for prison life, however brief their sentences might be. Chief of Staff, Gen. Kelley recommended an old associate of Richard Nixon as a good training resource. An alternate to prison was also discussed–the boys would enlist in the military, preferably the U.S. Marine Corps, but that was dismissed as a possible conflict of interest within the familia.
Priebus out, A.G. Sessions pushes back on POTUS
After an especially "interesting" week of drama in the Trump Oval Office, it's easy to lose track of what all happened. The big news on Monday (7/24/17) was Trump's tweets relentlessly bashing his Atty. General and early campaign backer, Jeff Sessions of Alabama.
By Wednesday (7/25)  Trump tweeted a major policy change: the military will not allow LGBT citizens to serve. This caught the Pentagon brass by surprise, and served as a distraction from updates on Congressional probes into Russian connections with the Trump campaign.
Then, a late Wednesday night phone call by (not yet actually serving in the position) Trump's new capodicena, Anthony "Mooch" Scarmucci, to New Yorker writer Ryan Lizza, really blew up the news-cycle. In the call, using some graphic profanity tempered with a proud display of ignorance, "Mooch" proceeded to call out just about everybody in the oval office as leakers, especially Reince Priebus, and hinted that he would be filing felony charges, doing a lot of firing, and doing it soon! Sure enough, Reince was out by Friday morning, and Scaramucci acknowledged the content of Lizza's report.
Scaramucci's followups (a call to CNN!) dominated the news, but Friday, after the "Repeal Obamacare" party broke up, anonymous sources close to Jeff Sessions, said he was hurtin', and it was time to push back on Trump's bullying, as he dramatically "un-friended" the Trump on Facebook, and in a more serious move, suggested he might be "looking into" shutting down Trump's Twitter account, citing it as a threat to national security, if not a violation of the Twitter Terms of Service Agreement.
Trump threatens Adobe over Photoshop "makeovers"
Just weeks into his first tumultuous term, President Trump has disparaged major, mainstream news outlets, calling them fake news.
Now, he is livid about unflattering internet images created with Adobe's Photoshop, and in a (leaked) phone call to Shantanu Narayen, the Adobe CEO, Trump suggested "bad things," such as computer hacking, might happen unless they modify Photoshop programs to prevent manipulation of Trump images. Spokesman Sean Spicer told reporters:
"President Trump feels that many of the fake pictures posted on the internet may actually damage his presidency and our American plutocracy. Some of these images may be funny in a junior high setting, but others are downright mean, and the President is a sensitive guy.  It is well within his scope of power to demand that Adobe make immediate changes to their current version of Photoshop, and force mandatory updates onto older versions.
Also, Adobe must provide identification of the creators of images that Mr. Trump deems 'hurtful and dangerous to national security'. Adobe has made nice gains in the stock market since the President took office, but he can change that with a couple of Tweets, and we know that he can Tweet better than..well…anybody!"
More images that upset the President:
From the Archives…
Christie has special transition plans for some areas of U.S.
Gov. Chris Christie, who is Trump's "transition team leader" has been discussing post-election actions to drive home Trump's special theme of unity. Sources close to his team have mentioned possible "attitude adjustments" will be in order for certain areas of the U.S. that were Republican strongholds, but didn't get on the Trump Train. Specifically, Christie has begun laying out plans to conduct multiple "traffic studies" in certain cities–sort of a "mother of all traffic jams" similar to the one his staff launched in 2012 (N.J. Bridge-gate" verdict details).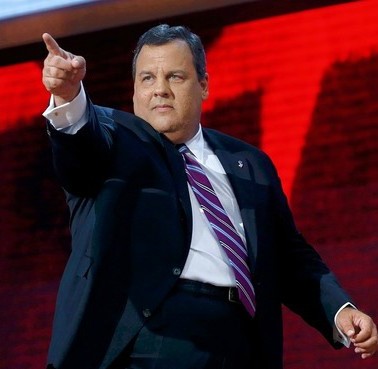 An inside source described a recent meeting where Christie became highly animated while describing how this strategy would push certain mayors and other local politicians, who distanced themselves from Trump, to "get their minds right" and enthusiastically support President Trump.
But wait–there is a Plan B:
SPACE TRAVEL!
Should Trump somehow lose the vote, Christie proposed constructing a large interstellar space ship that could accommodate thousands of Trump "true believers" in a journey to a planet for suitable for human colonization.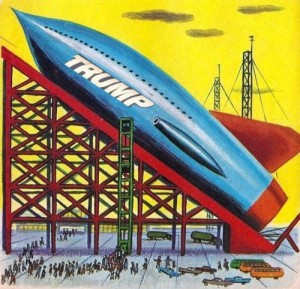 To ensure a cohesive society, most of the space pilgrims will be attractive women, hand-picked by Trump, for their beauty and fertility.
The ratio of women to men would be somewhere around 200:1, with men picked for their virility and overall manliness. Brimming with Trump-like confidence, Christie said, "In a very short time, this will be the most fantastic planet in the universe, and only stupid people would want to remain on this 'dump' we call Earth."
Canadians plan to move to U.S. when Trump Wins
From the time Donald Trump announced his campaign for POTUS, a hot topic has been the U.S. citizens who vow to move to Canada if he wins. Now, with the race very tight on the eve of the election, there appears to be a "counter-move" on behalf of disgruntled Canadians, who plan to move to the U.S. when Trump wins.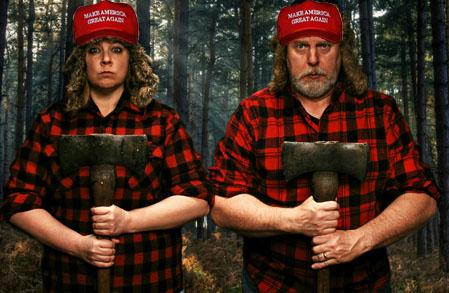 Charles and Wendy V'alluere (photo) are typical of this group of disgruntled Canucks.
He said, "We are sick of Canada being weak and kind of a joke in the world. Up until now, the U.S. was hardly any different. We're sick of Canadian health care and can't wait to see Trump dump Obamacare.  Trump as the strong leader we have been looking for. This Trudeau (Justin, Prime Minister) kid is so namby-pamby and feminine that we can't take it anymore."
November 22, 2015
Trump Declaration of War Appears Imminent
Two weeks ago, a source close to the Trump campaign revealed, off-the-record, that he was considering taking unilateral military action in Syria and Iraq. On Friday, Trump took the plan public, and spoke with a small group of veterans in South Carolina and described his plan this way: "I don't have time to fool around waiting for our idiot president and his stupid military advisors to wipe out ISIS.  Within the next few weeks, I will be taking a two-pronged approach to stop this scourge on civilization." Link to full article..
November 20, 2015
Boom in Mini-Prisons Predicted
Despite recent state and federal legislation to reduce criminal penalties and free many non-violent prisoners, it appears that the private prison industry, including industry leaders  GEO Group and the Corrections Corporation of America, the nation's largest private jailers, will continue to expand. Link to full article..
Feb. 29, 2014
Jimmy Buffett's Seaplane Attacked
In what appeared to be another incident based on Florida's "Stand your ground law" a lone gunman, aboard a 1-person Kevlar submarine opened fire on Jimmy Buffett's seaplane. The shooting occurred near Key West, in Florida territorial waters. According to police, the
gunman, Charles Mizon, a former Navy Sea Lion Commando, became irritated by what he claimed was loud, threatening music coming from Buffett's seaplane, the Hemisphere Dancer. Mizon managed to fire over 20 rounds before Buffett's security guards returned fire with warning shots from a 50 caliber machine gun. Mizon was later apprehended by Dale Chance, a officer of the Coral Keys Citizens' Auxiliary Police. Chance released Mizon with a verbal warning after confirming that the music did indeed cause Mizon to fear for his life, and thus he was justified in opening fire. A spokesperson for Buffett made a brief statement: "Jimmy was just mixing some tracks he recently recorded with Justin Bieber, and in retrospect he can easily see how this might scare some locals. Other than some minor damage to the Hemisphere Dancer, which will be covered by insurance, it was a "no harm, no foul" incident, and the press should just forget this ever happened. When you live in Florida, you realize the law was meant to protect all fearful and paranoid people, and this is why we live here. This incident confirmed Jimmy's fears that working with Justin Bieber was a big mistake, and ended any possibility of further collaboration."
JULY 2012
Limbaugh says Batman villain "Bane" is a conspiracy to hurt Mitt Romney
Rush Limbaugh often opens segments of his show by declaring he has "half my brain tied behind my back, " to simplify things so that we common folk can understand his high-falutin' thinkin'.
During his July 17th show, he proposed that the the new Batman movie (The Dark Knight Rises) was timed for theatrical release so that it would harm Mitt Romney's campaign. How? Well, apparently the dastardly "Bane" character sounds just like "Bain," as in "Bain Capital," the business Romney built and now must defend against various misdeeds and questionable tactics. There are 3 facts that make this particular conspiracy a real s-t-r-e-t-c-h, even for el-Rushbo:
1. The "Bane" character appeared in 1993. 2. There have been 8 Batman movies released since 1989. Maybe Limbaugh should take a closer look at the The Dark Knight (2008), since it was the only other Batman movie released during an election year, and probably had subliminal messaging that might at least partially explain McCain's 2008 loss. 3. Typical fantasy fans will be writing in "Ron Paul" and consider Romney the "establishment's candidate."
Romney and the Elusive Common Man, or "The Business Genius runs for President"
I know Mitt is the "business candidate" and all that, but this may be a bit over the top!
This photo, from earlier times, is explained as a celebration when Bain Capital scored big. I guess the women executives weren't available at the time the photo was taken.
May 2012
Obama to Appoint Supreme Court of Television
(Washington, D.C.) Those in the know say Joseph Wapner, former TV Judicial pioneer, has inside track for the Chief Justice spot in the President's proposal to appoint an "outside" court to handle cases that are mistried or poorly presented in daily TV Courts.
Others mentioned in rumors include: Efram Zimbalist Jr.-Ret'd TV PI (77 Sunset Strip) and FBI agent, Columbo (deceased, but still mentioned),Mr. Spock (L. Nimoy), John LaRouqette, and Bruce Wayne/Batman (Adam West). It seems a little heavy on the enforcement side, so a sentient being TV watcher might ask, "But what about Judge Judy and the others I love to watch?" A spokesperson for the Obama administration said , "based on the few sessions I've viewed, many Judge Judy's decisions are questionable, and are an example of why we need this court." Republicans have vowed to, "stall this thing out," assuming they will win the upcoming election, and can appoint their own panel of judges.